| | |
| --- | --- |
| 11 Total Results | Page 1 of 2 NEXT ⇨ |
Gibson Les Paul Bass
List: $3000
$
2,250
.00
Save 25%
Preview
PID: 4454
1971 Les Paul Bass Guitar in very good condition with no repairs or reconditioning! Single cutaway carved top, two oblong low impedance pickups mounted straight across, master volume, bass, and treble knobs, high-low impedance switch, oblong control plate, 30.5" scale, unbound fingerboard with dot inlay, and crown peg head. This instrument shows normal wear to the finish that would be expected for a 45+ year old player's bass and the moderate crazing on the mahogany body adds loads of character! Original hard shell Gibson case included! To maintain our low prices and fast service, all items are sold as is with no warranty, returns, or approval. If you have any questions before your purchase, please contact us through the reverb message system only. All shipping and insurance costs are the responsibility of the buyer.
View More Details
---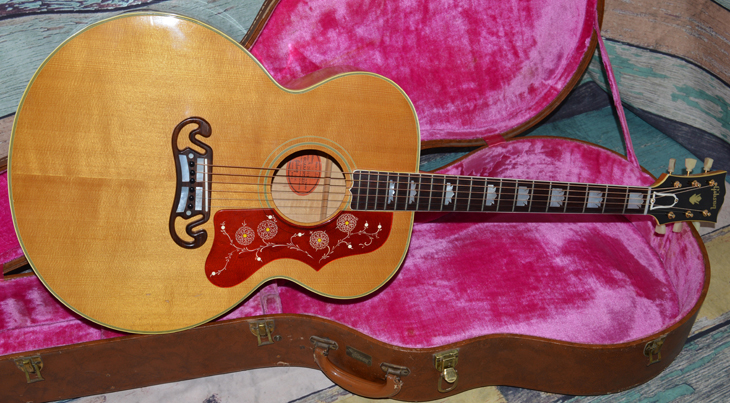 Gibson '57 J-200
$
14,900
.00
Preview
PID: 4450
This 1957 J-200 is in amazing exceptionally fine condition. Natural blonde finish, all original, booming tone and beautiful highly flamed back and sides. Recent professional set up and ready to go! This guitar shows wear, light bumps and nicks from conservative play. No repairs, no at all refinished, and comes complete with original hard shell case.
View More Details
---
Gibson 1992 Jimmy Wallace Les Paul
$
7,995
.00
Preview
PID: 4441
1992 Jimmy Wallace Les Paul Custom Shop 1960 Reissue, in excellent condition. Wide fast neck and sporting a Spectacular figured quilt maple top! It is unknown how many of these were actually made. It was a limited run and this guitar is as stunning as it is rare! Low action and weighing just 9 pounds 2 oz. Tuners have been upgraded to high quality Schaller replacements. Originals are in case. Only the highest quality materials were used in the production from the highly quilted maple top and rosewood fingerboard, to the hand picked mahogany back, and neck. Factory Patent applied for pickups, Beautifully matched, that read 8.41k at the neck and 8.35k at the bridge. Includes original hard-shell case.
View More Details
---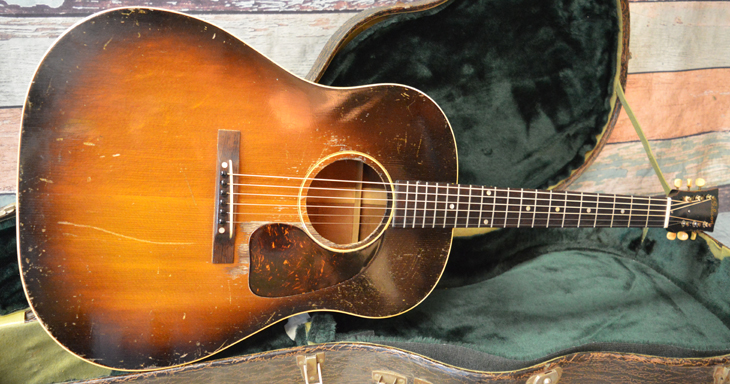 Gibson 1947 Gibson J-45
$
6,500
.00
Preview
PID: 4434
1947 Gibson J-45, script logo, workhorse dreadnought, conforms to factory specification with spruce top with mahogany back and sides, comfortable and typical wartime full neck, inch and 3/4 at the nut, with original 3 on a side Kluson tuners, some accumulated play wear from the past 70 years, but overall in above average condition, no cracks in the top or sides with wear in the typical locations, 4 or 5 repaired back cracks near the center of the lower bout, all repaired and stable, some dings chips and nicks in the back of the neck from playing, great playability for finger picking styles, saddle has been taken down, no neck set ever done, fully playable and sounds great as is, however this instrument would benefit from a neck set at some point, this is a solid great sounding guitar, loud even and musical tone, sweet as honey when played lightly and roars when you lean in to it, includes the original Gibson green lined hardshell case.
View More Details
---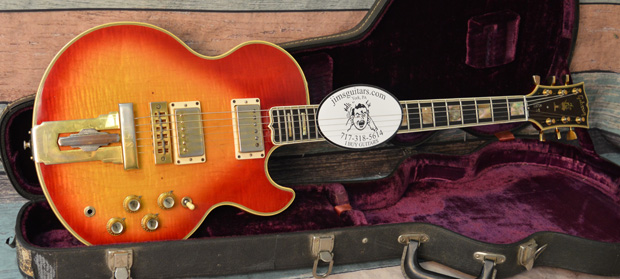 Gibson 1974 L5S Custom
$
3,500
.00
Preview
PID: 4409
A 1974 Gibson L5S Custom in very good condition; Highest quality Gibson solid body second generation with humbuckers, Grover imperial tuners for super stable tuning; the neck pickup has been replaced with an early Gibson T top patent number sticker pickup circa 1965, it pairs nicely with the original tar back bridge pickup with readings of 7.62 neck and 7.40 bridge. The neck pickup volume pot has been replaced and is in the case pocket. These few issues make this a great bargain. At 9 lbs and 0.6 oz, this instrument is in great shape with almost no fret wear on the original frets. A headstock crack was professionally repaired so that it is almost undetectable except for inspection under blacklight. Two marks near the bridge have been filled Super clean guitar with very low play-time!
View More Details
---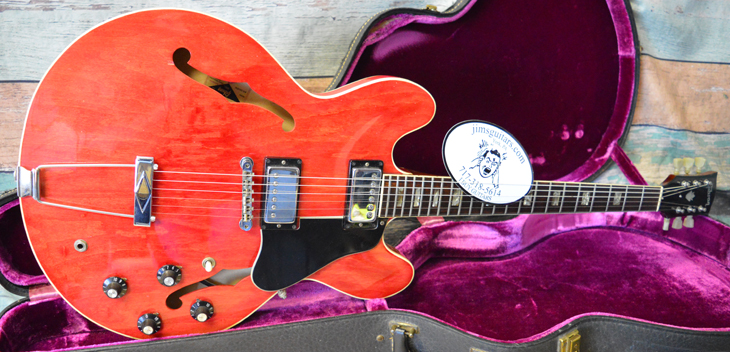 Gibson ES335 TD
$
5,195
.00
Preview
PID: 4358
1973 ES-335TD in a Vibrant unfaded cherry finish, This is a super clean example. This instrument looks stunning, 3 piece mahogany neck with no wear on the finish. Pot codes date to 73, no heavy pick scratching, all the chrome hardware shines with no pitting or corrosion, frets have lots of life with just moderate wear on the first-third frets, first and second strings, pearloid block inlays and original unbent Deluxe tuners, sounds fantastic with original patent number sticker humbucking pickups that read 7.19 at the bridge 7.32 at the neck. Weighs just 7lb 6oz, comes complete with the original black/purple lined Gibson hard shell case.
View More Details
---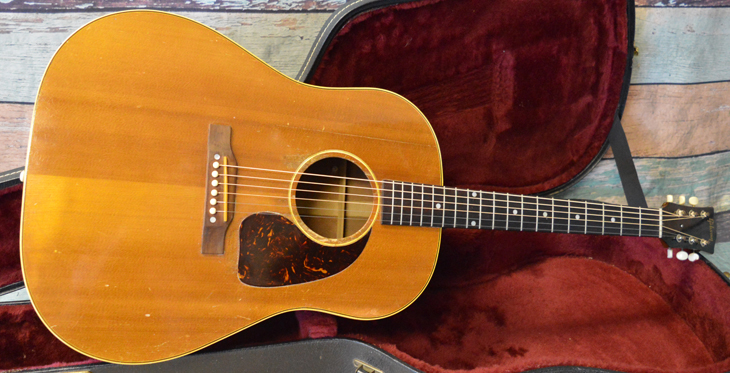 Gibson J-50
$
4,995
.00
Preview
PID: 4352
All original 1954 Gibson J-50 in excellent condition, incredible volume and powerful mid range, warm woody tone that is even across the spectrum. Set up for easy playability. Strap button added on the neck heel for players that like to stand, no lifting of the bridge, some touch up in the normal places around the sound hole and below the pick guard only, Fantastic original condition with only one old, barely viable, straight line crack repair approximately 6" noted above the sound hole no other cracks on the back, or sides, strip tuning machines are in good working condition, normal amount of wear from age on the body. small amount of typical hand wear on the back of the neck. Includes modern Martin branded deluxe hard shell case
View More Details
---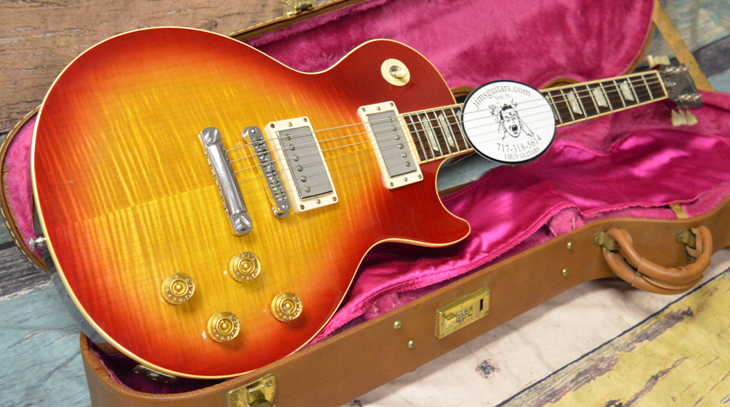 Gibson Les Paul Standard Premium Plus
$
2,649
.00
Preview
PID: 4342
1997 Les Paul Standard Premium Plus is in fantastic condition with no other way to say it but mint. The highly figured flame maple top in cherry sunburst is nothing less than amazing and is sure to remind you of an original Les Paul "burst" of 1958 at every glance! Weighing in at 9 lb 9.4 oz, you'll get that traditional Les Paul feel as soon as you pick it up, and with '57 Classic pickup readings of 7.86 at the neck, 4.95 middle, and 13.5 bridge, this beast bleeds rock and roll and plays like a dream; included is the original hardshell case, place your order today while its still available... it won't last long!
View More Details
---
Gibson ES-5/L-5 CES
$
8,995
.00
Preview
PID: 4331
1952 Gibson ES-5 Custom, gorgeous factory refurbished guitar brought up to L-5 specs in the 62-63, with factory installed carved spruce top in cherry sunburst finish, early Patent Number humbuckers with PAF out put of 7.18 at the neck and 7.98 at the bridge, all wiring parts and layout conforms to L-5 CES specs, over-sized Grover Tuners and metal top reflector knobs, this guitar has a beautiful flame maple neck that had a meticulously executed headstock repair, white label stamped ES-5 with Z factory order number, serial number on sticker matches the double sized imprint on the headstock, 60's era black/yellow lined Gibson case included.
View More Details
---
Page 1 of 2
11 Total Results : Pages : 1 &nbsp&nbsp2