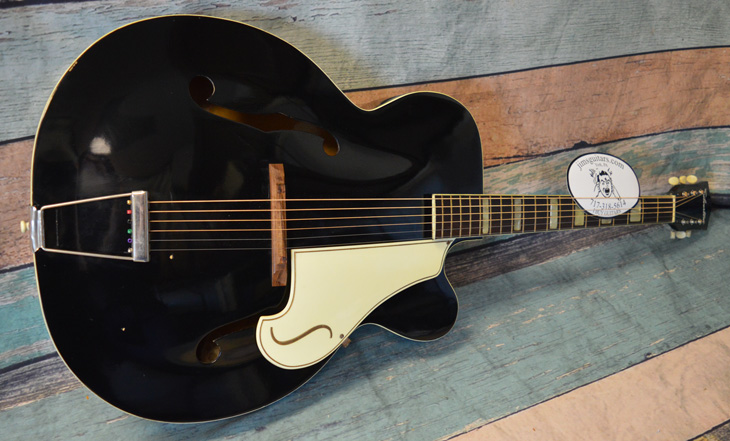 Silvertone Model 644
$
699
.00
Preview
PID: 4314
1959 Model 644 dubbed the Aristocrat is in excellent condition, the pearloid block inlays cream binding and matching pickguard with the S logo pop against the black finish, a non original trapeze style tailpiece was installed and there is minor fret buzz most prevalent at the 12th fret and above, great sounding back porch tone, includes newer aftermarket hardshell case.
View More Details
---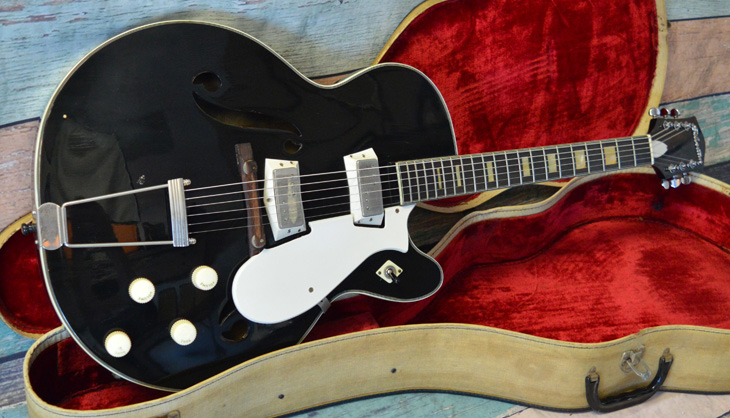 Silvertone Model 1446
$
1,499
.00
Preview
PID: 4313
1963 Silvertone 1446 known as the Chris Isaak model, is in exceptionally fine condition and is a great sounding and playing guitar, classic black with a bound rosewood fingerboard and block mother of pearl inlays, upgraded with Grover closed back tuning machines and trapeze tailpiece, includes the original hardshell case.
View More Details
---

G&L 1988 ASAT III
$
1,699
.00
Preview
PID: 4307
1988 G&L ASAT III in above excellent condition, awesome alternative for a Telecaster style guitar, these are rare birds in this configuration, 3 single coil MFD pick ups with output reading 4.1k at the bridge, 4.1k Mid and 4.3k neck, 5way selector, frets show very little wear and have lots of life left in them, cosmetically in exceptional condition. Don't let this one get away, complete with original hard shell case.
View More Details
---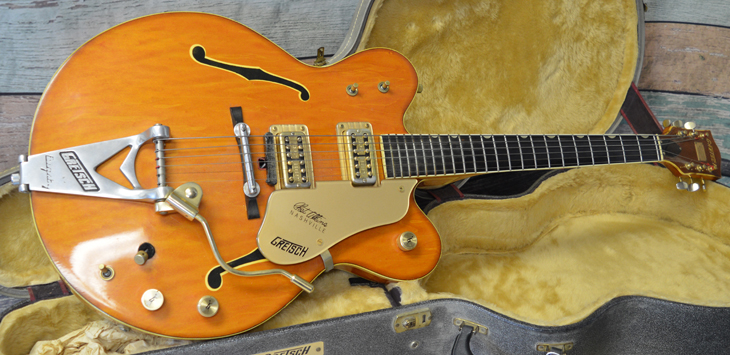 Gretsch 1972 Chet Atkins 6120 Nashville
$
2,299
.00
Preview
PID: 4293
1972 Chet Atkins 6120 Nashville, Co-designed with the guitarist's guitarist, Chet Atkins, the venerable 6120 is one of the most widely heard Gretsch instruments. The 6120 Chet Atkins Nashville Hollow Body with Bigsby stays true to the original design and astounding classic aesthetics. A veritable tonal multi-tool, this hollow body has an easy-playing, comfortable feel and rings out proudly with that great Gretsch Sound! 'ÄÉThis 1972 Gretsch 6120 Chet Atkins Nashville is in very good condition, with moderate aging and minimal wear, all of the electronics still work properly, and the binding around the body shows some moderate aging. The original finish is in great shape with minimal discoloration. This Gretsch 6120 Chet Atkins Nashville is a timeless classic, and perfect for the player, performer, or someone who just wants to add a fine Gretsch to their collection. Comes complete with the factory orignal hardshell case.
View More Details
---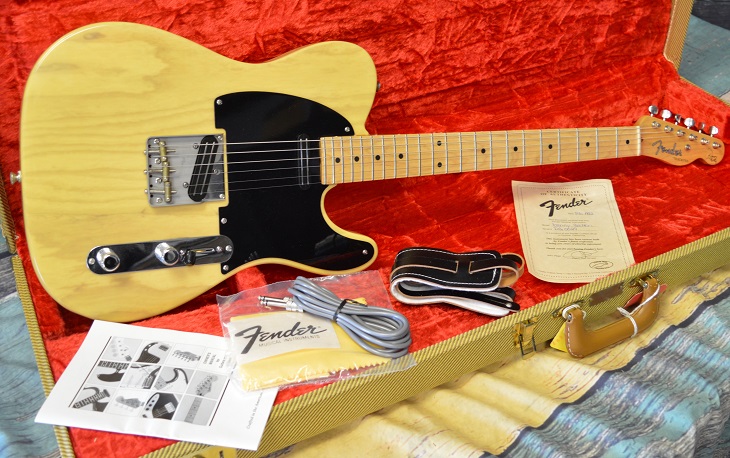 1992 Danny Gatton Custom Shop Telecaster
Preview
PID: 4287
1992 Fender Custom Shop Danny Gatton Signature Telecaster, this Danny Gatton Tele is 100 percent original including strings, 29th made to Danny's specs with a swamp ash body, 1-piece maple neck, and finished in rare honey blonde with a black pick guard, Joe Barden Pickups, vintage style coup bridge, and show-ready cubic zirconia neck dots that can be seen under the darkest of stage lighting, complete with tweed hardshell case, all certificates as well as the original shipping container.
View More Details
---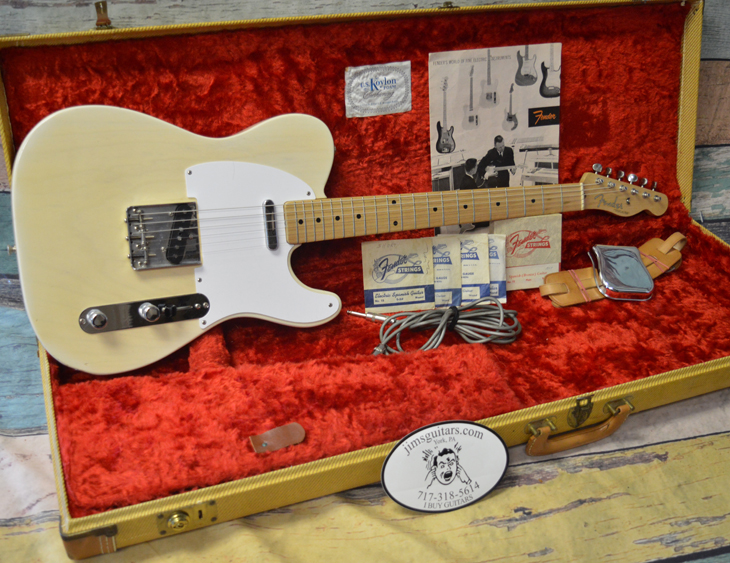 Fender Telecaster
** SOLD **
Preview
PID: 4276
1956 Fender Telecaster in museum condition. This is one of the finest and cleanest '56 Teles we have ever seen. Strong V neck profile, all original guitar that dates to the first week of July in 1956, pot code 304629. Perfect balance and light weight at 7.09 lbs. Bridge pickup reads 6.33K and the neck pickup reads at 5.87K. Comes complete with strap, cord, strings, bridge cover, catalog, and an original Koylon lined tweed hard shell case in amazing condition! One for the true collector!
View More Details
---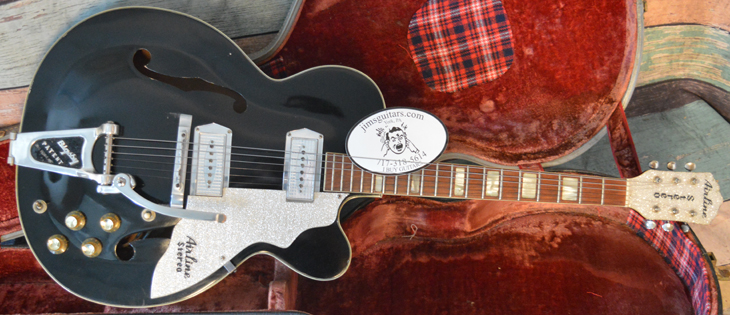 Kay Airline Stereo
$
1,529
.00
Preview
PID: 4272
1950's Airline Stereo, Kay house branded to Montgomery Wards, silver sparkle headstock overlay, original black finish, bound Brazilian rosewood fingerboard with block inlays, all original and complete, great tone from the factory original Kleenex box pickups, comes complete with vintage Gretsch hardshell case.
View More Details
---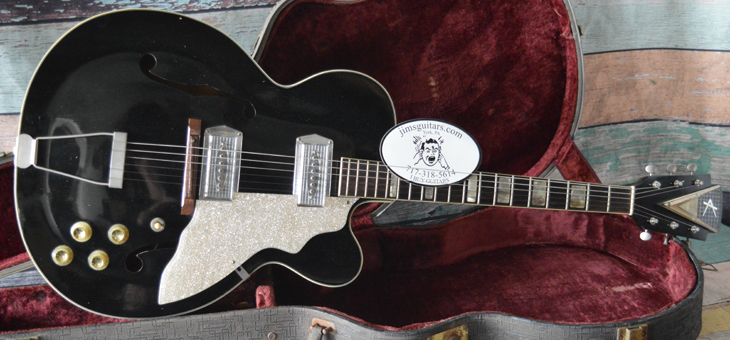 Kay Kay K8990 Upbeat
$
1,619
.00
Preview
PID: 4271
1950's Kay K8990 Upbeat with Kelvinator head stock and original black finish, it has a great playing neck with great frets, all original and 100% complete with the exception of the adjustment thumbwheels on the bridge, included, is a vintage Gretsch hardshell case.
View More Details
---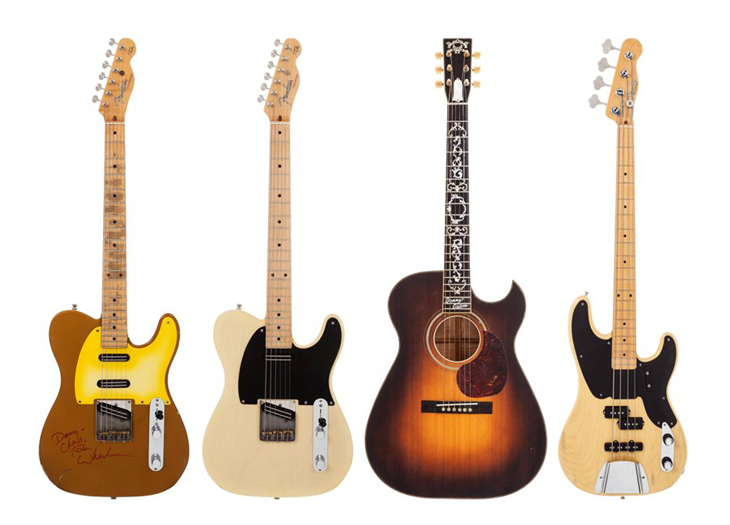 Danny Gatton Collection
Preview
PID: 4261
Here is your chance to own a piece of guitar history! These instruments were Danny's actual playing instruments in the years before his untimely passing. His 53' Tele was long gone and had been traded for a 36' Ford Coupe. His Fender Custom Shop number 1 Telecaster (first in thumbnail) was modified by Danny to include a center pickup. A new pickguard was also added, the original is still in the case. Tom Wheeler author of 'American Guitars' signed the instrument. The neck plate bears an inscription in Danny's hand, "Stolen from Danny Gatton, 1991'. His Fender Custom Shop number 2 Danny Gatton prototype Telecaster (second in thumbnail) is in factory original condition and includes the original shipping box from Fender to Danny's address in Maryland. It remains in near mint condition and was only played once in the studio according to Danny's handwritten letter. The third guitar pictured is a Randy Wood acoustic. It's a single cutaway flat-top with highly figured Maple back and sides, spruce top, sunburst finish, and ornate carving at the neck heel as well as multiple binding, Herringbone purfling, with ebony fingerboard, and abalone inlay from end to end. It is a masterwork with multiple inlay and Danny's name at the end of the fingerboard. This is the finest example of detail work by Master Builder Randy Wood. The final piece in the collection, the Fender Custom Shop P/J Bass, was made for Danny by Fender guitars as a benefit of his agreement for the signa
View More Details
---