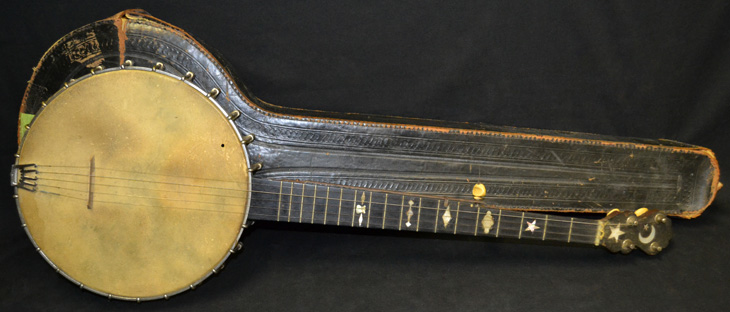 Binarys Professional Banjo
$850

An astounding early 1900's 5-string banjo by Binarys Professional. This open backed-banjo just emanates that antique feeling. Features include: Classic western-style genuine pearl inlays on its headstock & fretboard, 18-fret ebony fingerboard, original head & tuning machines, crown style tailpiece, old style V-shape neck, built-in drone capo, and Binarys Professional branded neck plate. The features and wear of this banjo are more than enough to verify its age. The inlays and headstock decoration are real pearl, and there is a small puncture in the drum head. The fret & body wear are present & consistent with the age of the instrument. This banjo would make a great addition to any collection, and is perfect for the player, collector, or antiques enthusiast! Includes the original, bottom opening soft shell case!
Review This Product
Did you purchase this product? Simply fill out the form below with required fields [*], verification code and send. Your review will be posted when approved by site administrator. Review characters posted will be limited to .