We buy, sell, and trade high quality
used and vintage guitars.

Used and vintage guitars since 1973
Repairs, appraisals, set-ups, and more!
Top CA$H for your used gear!



VINTAGE GUITARS * AMPLIFIERS * EFFECTS * NEW BOTIQUE GEAR


Jim Singleton has over 35 years experience in the vintage guitar business. At Jim's Guitars, Inc., he combines his passion for vintage and rare instruments with a wealth of expert knowledge and technical ability to ensure that every guitar and customer is treated with the utmost care and integrity.

Jim's reputation stands before him. With his extensive hands-on knowledge of vintage guitars and his ability to read the vintage guitar market, Jim has been a regular contributor to the Vintage Guitar Price Guide, amongst other publications, for many years and continues to support the industry through constant innovation and input. At Jim's Guitars, Inc. you can expect accurate and honest service with confidence, as well as a wealth of expertise from Jim and the rest of the staff, competitive and fair pricing and excellent customer service.

Jim's Guitars, Inc. buys, sells, and trades vintage guitars and amps and offers appraisals of vintage instruments, guitar set-ups and repairs. So whatever your vintage guitar needs you can guarantee honest, accurate, and professional service.

Please call for availability. Private viewings are also available to fit your schedule. Please contact us to schedule your private viewing of select vintage pieces.
Our Hours
---
Jims Guitars, Inc.
2331 East Market St. STE A
York, PA 17402
Tel: 866.787.2865
Fax: 410.744.0010

To ensure the highest level of service and attention to each client, we ask that you schedule your one on one appointment with Jim's Guitars. Please call for more information or to schedule your personalized experience 1-866-787-2865.
Driving Directions
---
Jims Guitars is located at 2331 East Market Street in York, PA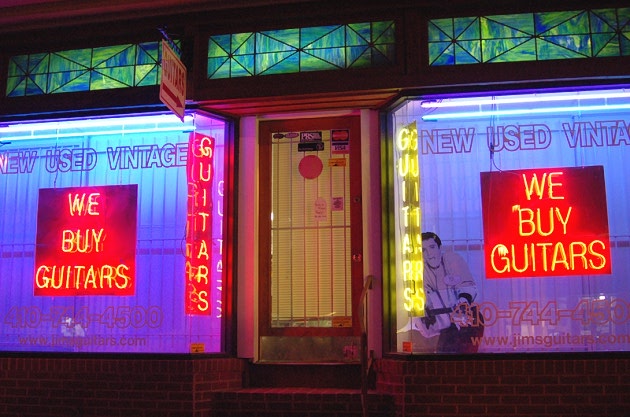 We simply offer the most original and most collectable vintage and
rare instruments at reasonable prices. And as always, "WE BUY GUITARS."


General Policy:
Please call during business hours for an accurate in-hand description or to order an instrument. You may also order instruments securely 24 hours a day, 7 days a week from our website with any major credit card. The submission of an order by phone, email, or any other type of electronic transaction does not constitute our acceptance of the order. We do offer a 24-hour approval period on our guitars for authenticity.

Many of our instruments are investment grade and of museum quality. Due to the fragile nature of certain collectable grade guitars, which are susceptible to damage in shipment due to handling and/or extreme weather conditions, approval may not be available on all instruments. Please allow 24 hours for instruments to acclimate to their new environment before opening the carton and inspecting. We cannot offer approval for amps, consignment instruments, layaway items, guitars discounted below our posted price, or items shipping internationally. These items are sold "As Is" without express warranty intended or implied.

International Buyers:
As our customers know, not all guitars are created equal. In turn the same philosophy applies to our shipping. A shipping quote will be generated and sent to you via email after an order is placed. However, you may contact a staff member via email or by phone during regular business hours for a shipping quote before you place an order. Any additional fees including duties, VAT, or any other charges related to international shipping are the sole responsibility of the buyer and are non-refundable. Shipping forms will reflect the purchase price and will not be altered. Due to shipping lengths and Customs operations, we cannot offer approval on items to our overseas buyers. International orders require payment via bank wire transfer.

More on Policies »