| | |
| --- | --- |
| 11 Total Results | Page 1 of 2 NEXT ⇨ |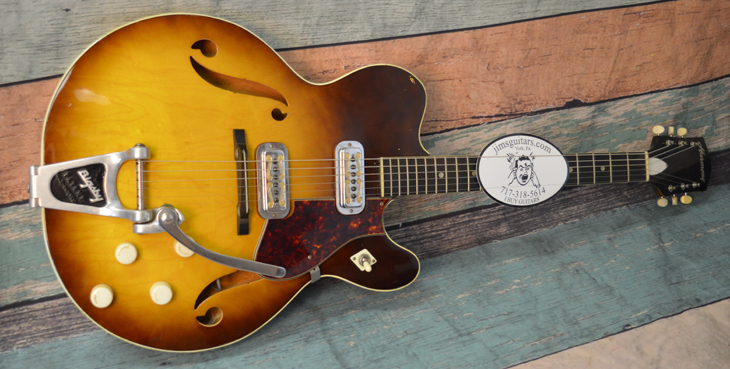 Harmony 1962 Harmony H74
$
1,199
.00
Preview
PID: 4407
1962 Harmony H-74 All Original! Single cutaway Electric, with Bigsby True Vibrato Tailpiece. Hollow arched body of laminated maple, DeArmond Electronics gold foil Pick-ups, super hot reading 11.23k at the neck 10.06k at the bridge, big fat neck. This guitar is gorgeous and ready for another 56 years!! Includes Newer Hardshell Case.
View More Details
---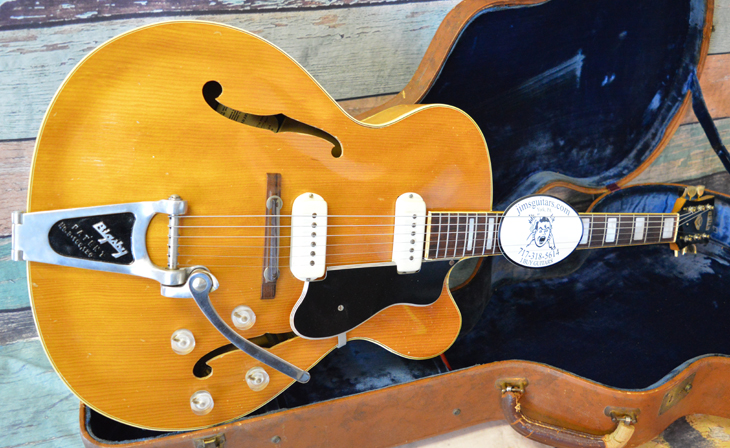 Guild X440
$
3,995
.00
Preview
PID: 4328
This 1953 Guild X440 in blonde hails from an experimental period in the company's history and is in exceptional condition with virtually all of the delicate binding present, the tuning machines have been gently replaced with Gibson Les Paul custom waffle back's with no reaming of the holes, the antique tone from the spruce top and stunning flame maple body will instantly carry you back to the 1950s! There is a small screw hole visible at the tremolo mount bracket, but the original Bigsby tremolo system is present and paired with the dual factory single coil pickups, this rare find is sure to provide all of the tools for a soulful playing experience... original brown Lifton hard shell case included so don't miss out on this historic instrument... CALL TODAY!
View More Details
---

Tokai LS-60
$
2,250
.00
Preview
PID: 4321
The Tokai LS-60 is hands down, the king of the famous and highly sought after Japanese lawsuit guitars, the Les Paul Reborn model from 1978 is no exception. This particular example is in nothing less than mint condition, and is a truly fascinating piece of history. A precursor to the "Love Rock" model, they sported all the desired features of the golden era 50's Les Paul's with sunburst finish and figured, book matched flame maple top. Pickups read 7.45 K and 7.98 K Ohms. Original Tokai branded hard shell case included.
View More Details
---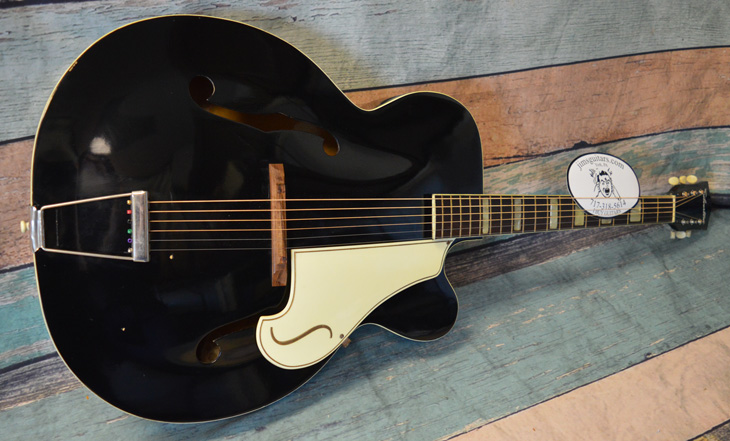 Silvertone Model 644
$
699
.00
Preview
PID: 4314
1959 Model 644 dubbed the Aristocrat is in excellent condition, the pearloid block inlays cream binding and matching pickguard with the S logo pop against the black finish, a non original trapeze style tailpiece was installed and there is minor fret buzz most prevalent at the 12th fret and above, great sounding back porch tone, includes newer aftermarket hardshell case.
View More Details
---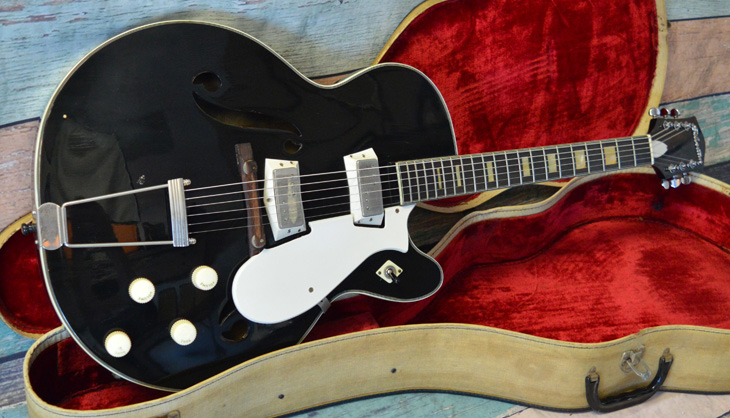 Silvertone Model 1446
$
1,499
.00
Preview
PID: 4313
1963 Silvertone 1446 known as the Chris Isaak model, is in exceptionally fine condition and is a great sounding and playing guitar, classic black with a bound rosewood fingerboard and block mother of pearl inlays, upgraded with Grover closed back tuning machines and trapeze tailpiece, includes the original hardshell case.
View More Details
---

G&L 1988 ASAT III
$
1,699
.00
Preview
PID: 4307
1988 G&L ASAT III in above excellent condition, awesome alternative for a Telecaster style guitar, these are rare birds in this configuration, 3 single coil MFD pick ups with output reading 4.1k at the bridge, 4.1k Mid and 4.3k neck, 5way selector, frets show very little wear and have lots of life left in them, cosmetically in exceptional condition. Don't let this one get away, complete with original hard shell case.
View More Details
---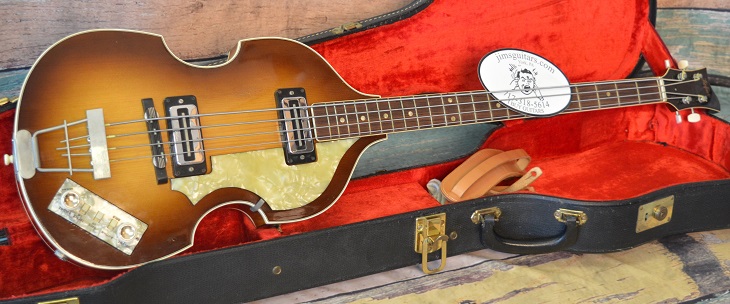 Hofner Model 500/1 Beatle Bass
$
2,299
.00
Preview
PID: 4302
1967 Hofner Model 500/1 Beatle bass in sunburst finish, all original example semi-acoustic, bound body in violin shape with 2 pickups and glued in neck. Made famous by Paul McCartney, this short scale, easy playing hollow-body bass weighs in at only 4lbs, 9.5 oz.! Original hard shell case included.
View More Details
---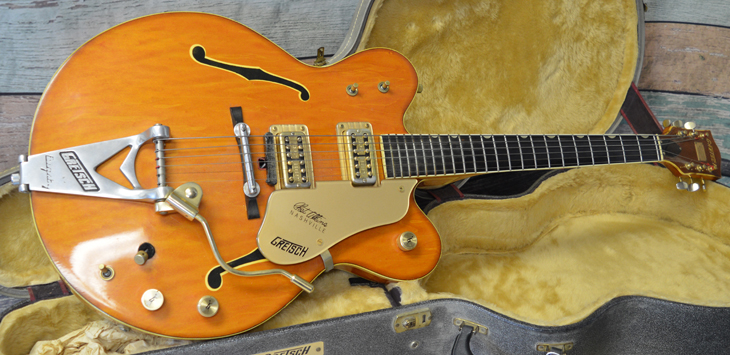 Gretsch 1972 Chet Atkins 6120 Nashville
$
2,299
.00
Preview
PID: 4293
1972 Chet Atkins 6120 Nashville, Co-designed with the guitarist's guitarist, Chet Atkins, the venerable 6120 is one of the most widely heard Gretsch instruments. The 6120 Chet Atkins Nashville Hollow Body with Bigsby stays true to the original design and astounding classic aesthetics. A veritable tonal multi-tool, this hollow body has an easy-playing, comfortable feel and rings out proudly with that great Gretsch Sound! 'ÄÉThis 1972 Gretsch 6120 Chet Atkins Nashville is in very good condition, with moderate aging and minimal wear, all of the electronics still work properly, and the binding around the body shows some moderate aging. The original finish is in great shape with minimal discoloration. This Gretsch 6120 Chet Atkins Nashville is a timeless classic, and perfect for the player, performer, or someone who just wants to add a fine Gretsch to their collection. Comes complete with the factory orignal hardshell case.
View More Details
---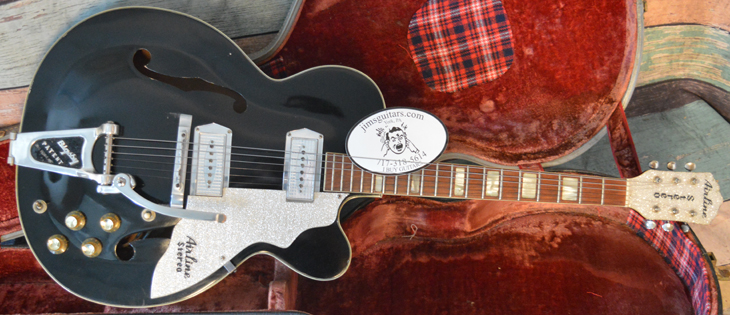 Kay Airline Stereo
$
1,529
.00
Preview
PID: 4272
1950's Airline Stereo, Kay house branded to Montgomery Wards, silver sparkle headstock overlay, original black finish, bound Brazilian rosewood fingerboard with block inlays, all original and complete, great tone from the factory original Kleenex box pickups, comes complete with vintage Gretsch hardshell case.
View More Details
---
Page 1 of 2
11 Total Results : Pages : 1 &nbsp&nbsp2